Litter G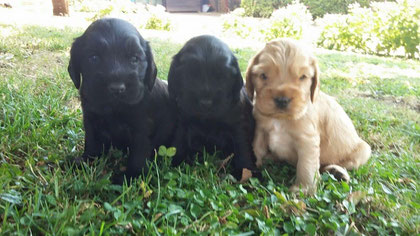 D.O.B.
15.07.2015

(1 black female-1 gold female-1 black male)
 (1 femmina nera-1 femmina fulva-1 maschio nero)
All puppies are in their new families!!
Tutti i cuccioli sono nelle nuove famiglie!!
Dance Into My Life
(prcd-PRA:A - NF:A - HD:A/B)
X

IT JCh Costopa's Perfect Dress

Res. European Junior Champion 2010
Italian Junior Champion 2011
Slovenian Junior Winner 2011
Qualified For Crufts 2012
Junior Top Dog 2010 - Cocker Red
(prcd-PRA:A - NF:A - HD:A)
I cuccioli sono esenti da NF e da prcd-PRA. 
 They are be free from NF and prcd-PRA. 
Dance Into My Life

Dt CH Lorette Vom Odenwald

Multi CH Adonis Vom Odenwald

Tara Vom Odenwald

Fuzberki Golden Mark

H Ch Jasenak Eon

 

Cr CH Fuzberki Moravenny Back To Basic